Philips SpeechLive Premium is

a new
effective way of communicating!
Let Your Voice do the Work

and communicate in writing
no matter where you are
Dictate your work straight into your smartphone or voice recorder and have Philips SpeechLive do the rest.
You will receive the transcript virtually instantly in your mailbox, if you want.
Just check it and finalize. Ready!
Speak. Send. Done.
Test drive the new effective way of communicating now!
Be productive
on the go
The Philips dictation recorder app is part of each SpeechLive subscription. The app is designed to work seamlessly with the SpeechLive  workflow solution. Record, edit and send dictation files directly from your smartphone and reduce document turnaround times. You can also choose to send dictations directly to the transcription service and optimize your productivity.
FEATURES
Affordable and accurate
Philips SpeechLive speech to text is our most affordable speech recognition option without compromising on quality.


Professional recording
Record audio, edit and send them for transcription.


Multilingual capabilities

Transcribe text in up to 22 languages and variants with SpeechLive's recognition technology.

Up to 95% accuracy

Get highly accurate results through our advanced speech recognition software.

Real-time job status

Receive directly the status updates of your dictation.


Voice command

Use voice commands to insert paragraphs, punctuation marks and special characters.​

Security

Encryption and auto backups maintain the highest security.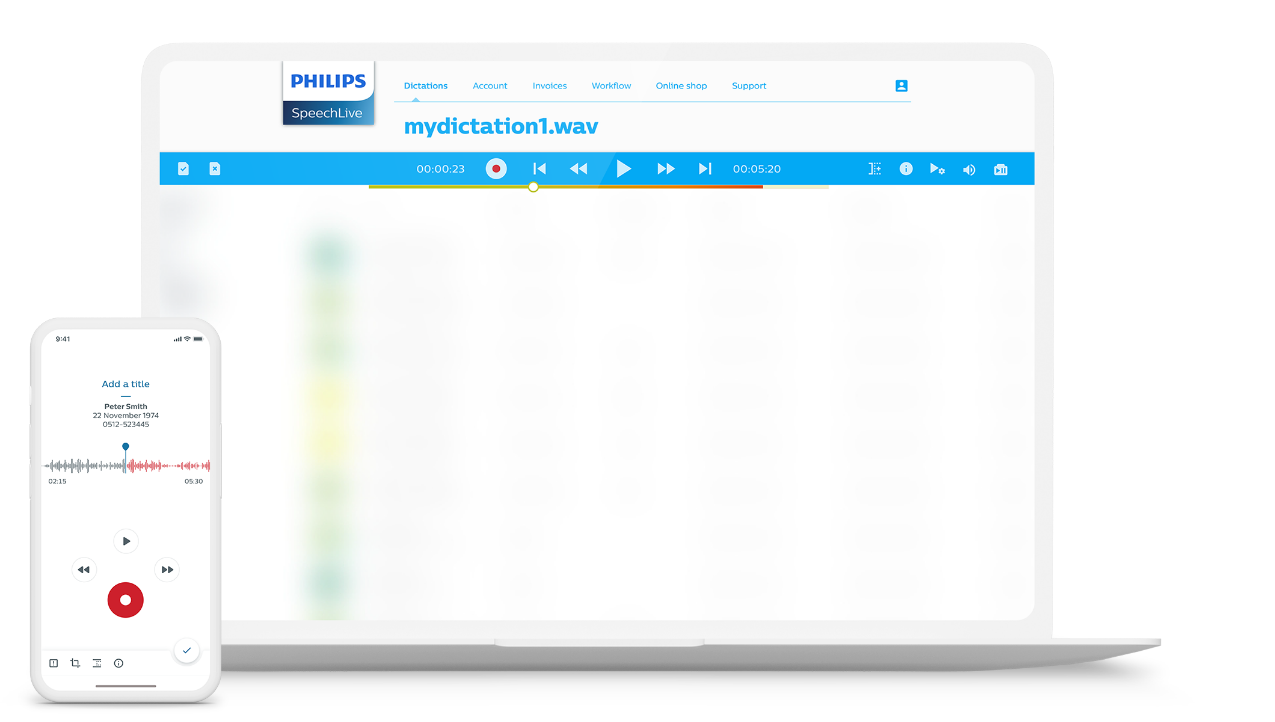 Order simply Speech to text unlimited speech recognition as an add- on package with your SpeechLive Premium of Premium+ account.

Use Speech tot text service via smartphone (iPhone/Android) or SpeechLive app for Windows.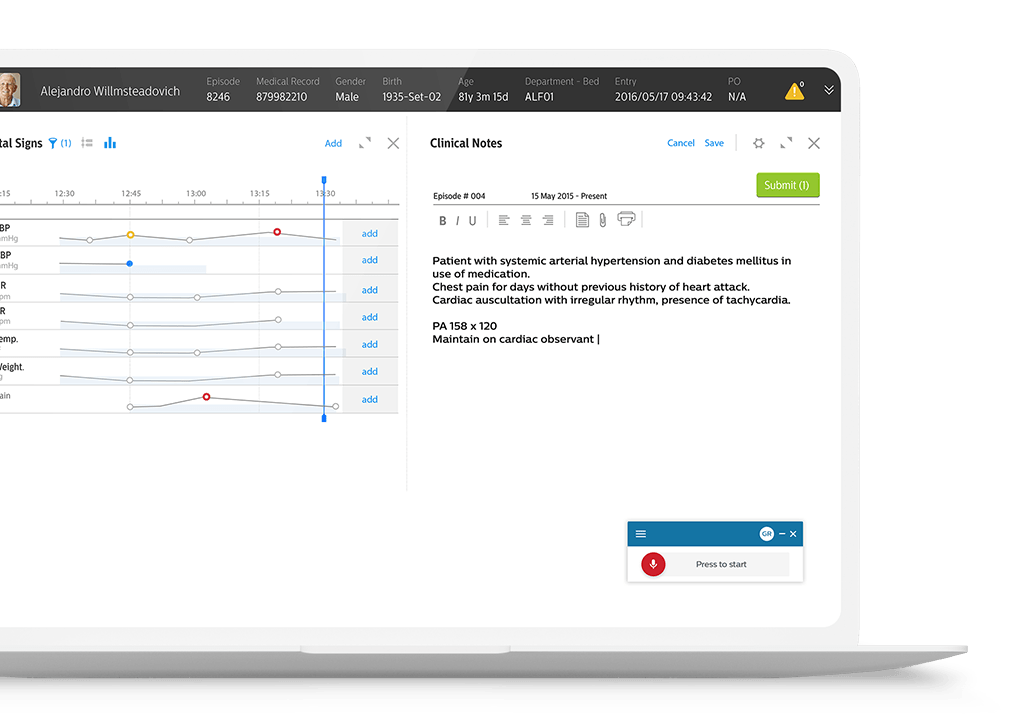 Transform your voice


into written text
SpeechLive converts your voice to text immediately and in real time while you speak. SpeechLive speech to text is tailored to work with real-life speech and can accurately transcribe proper nouns (e.g. names, places) and context-specific formatting. The audio file is also saved to your SpeechLive account, in case you want to review it later.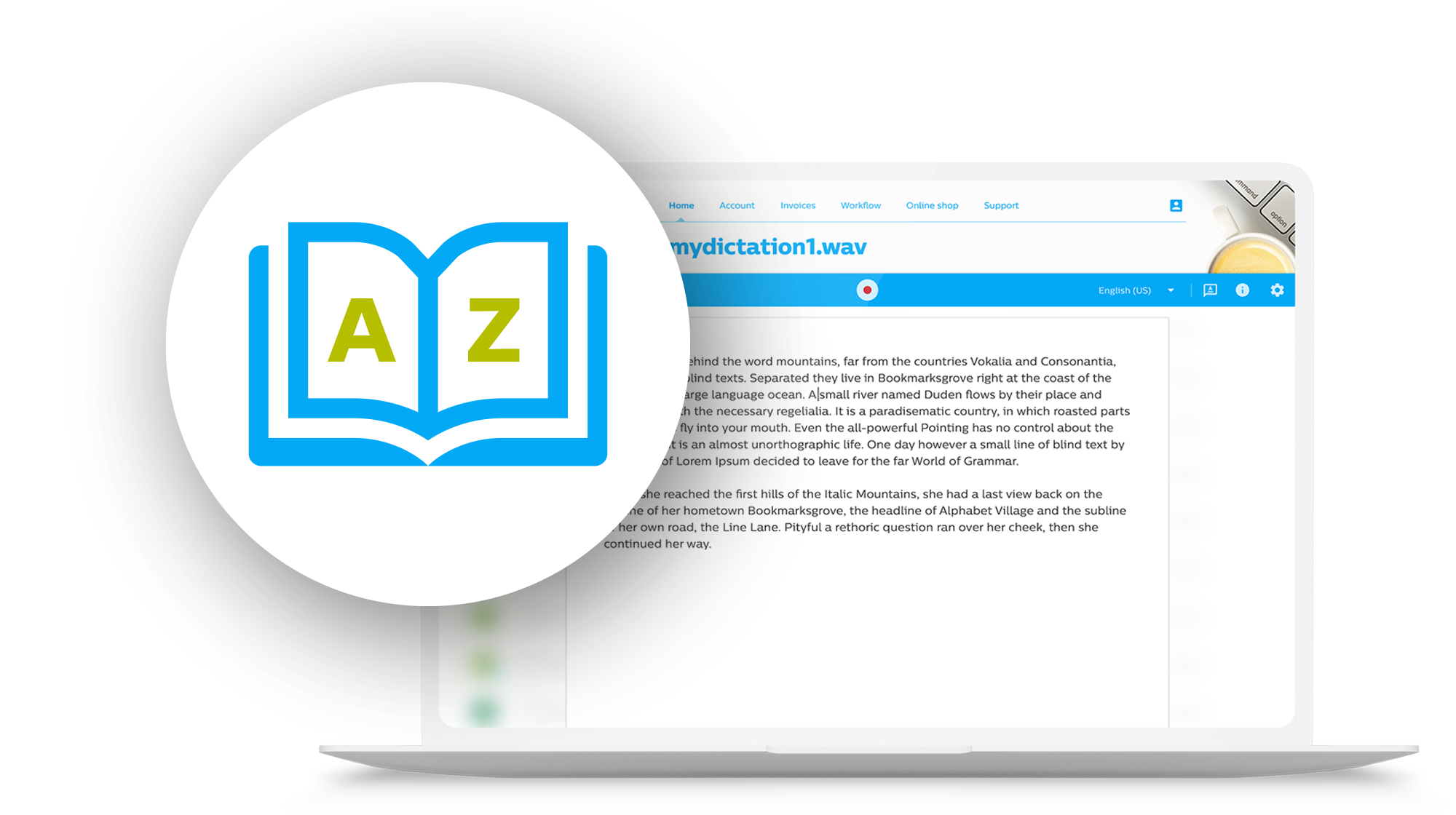 You can customize speech recognition for your business by specifying up to 4,500 words or phrases that are likely to be spoken (such as company-specific terminology). SpeechLive also automatically recognizes addresses, years and currencies, depending on context.
SpeechLive can recognize and transcribe 17 languages and variants including English (US, UK and Australia) German, French (France and Canada), Spanish, Italian, Portuguese, Catalan, Danish, Dutch, Finnish, Greek, Norwegian, Swedish and Hebrew.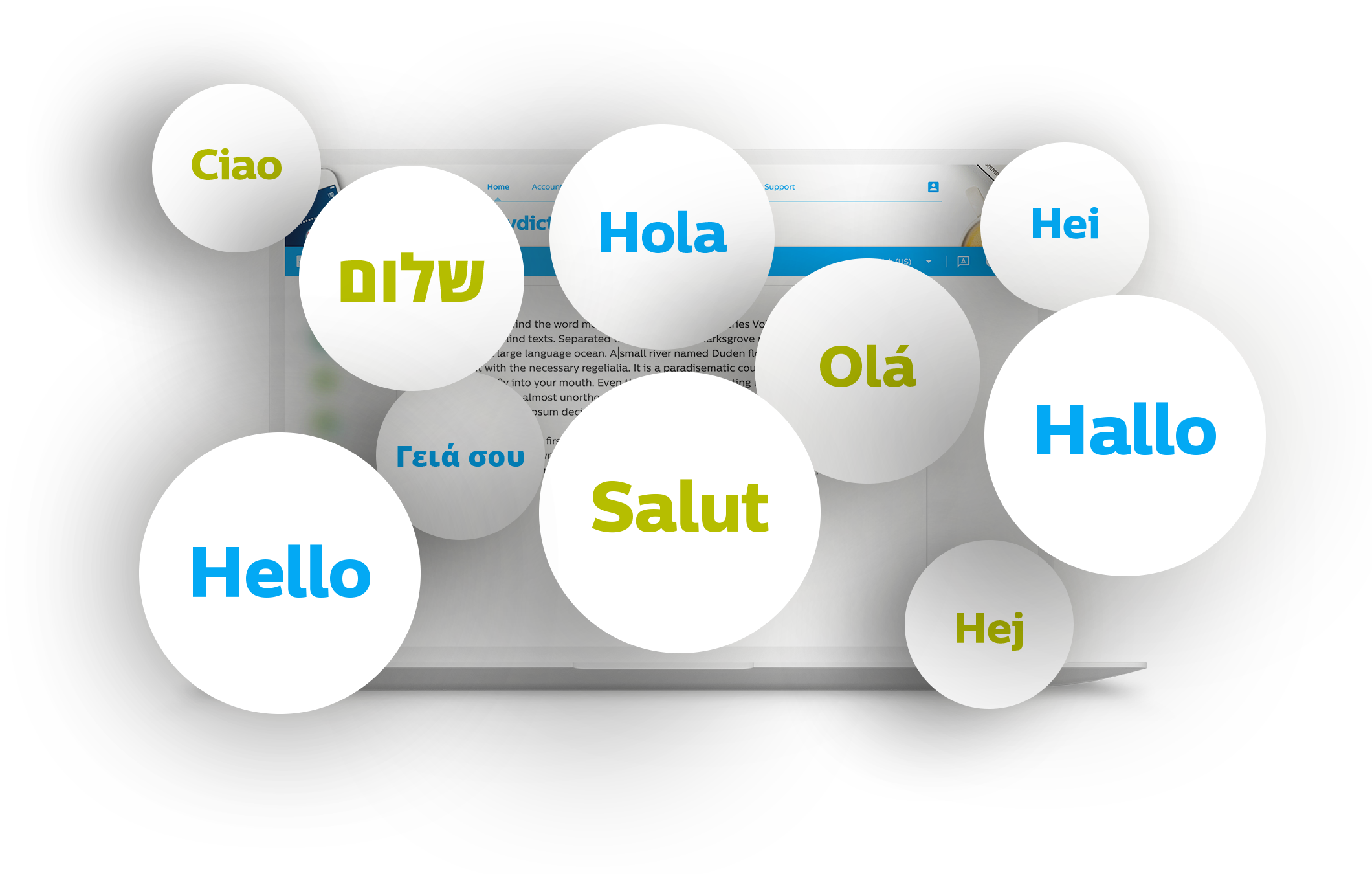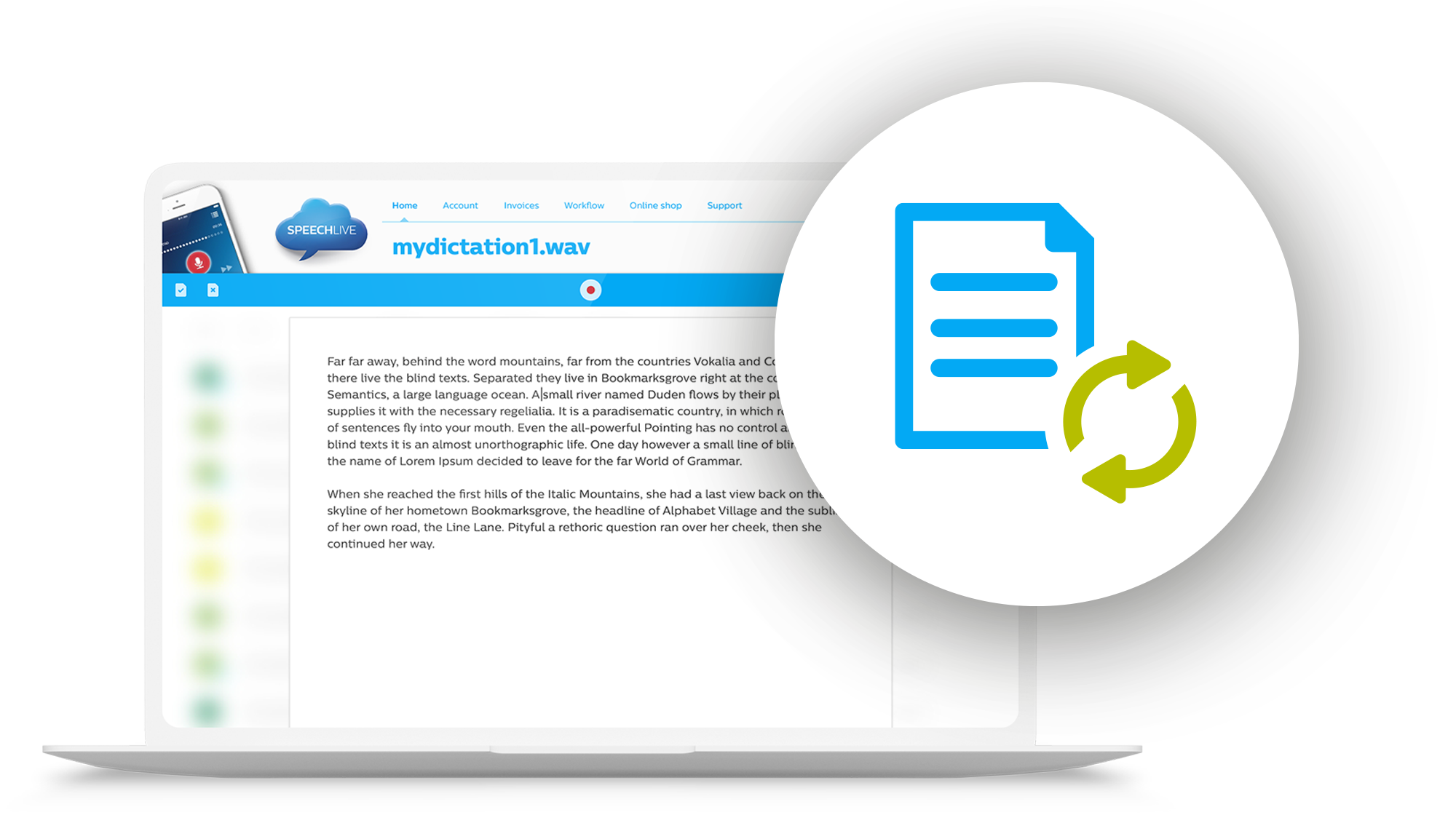 SpeechLive automatically saves the current document and recording, helping to reduce the risk of data loss in case your computer crashes or you accidently close the browser window. The next time you log in, simply continue working at the point where your dictation was interrupted.
Team up to


work faster and smarter
SpeechLive works seamlessly with Philips SpeechMikes Dictation Microphones and SpeechOne Dictation Headset. Using devices that are optimized for speech recognition and dictation improves recognition accuracy, avoids switching back and forth between microphone and keyboard, allowing you do more, better, and faster.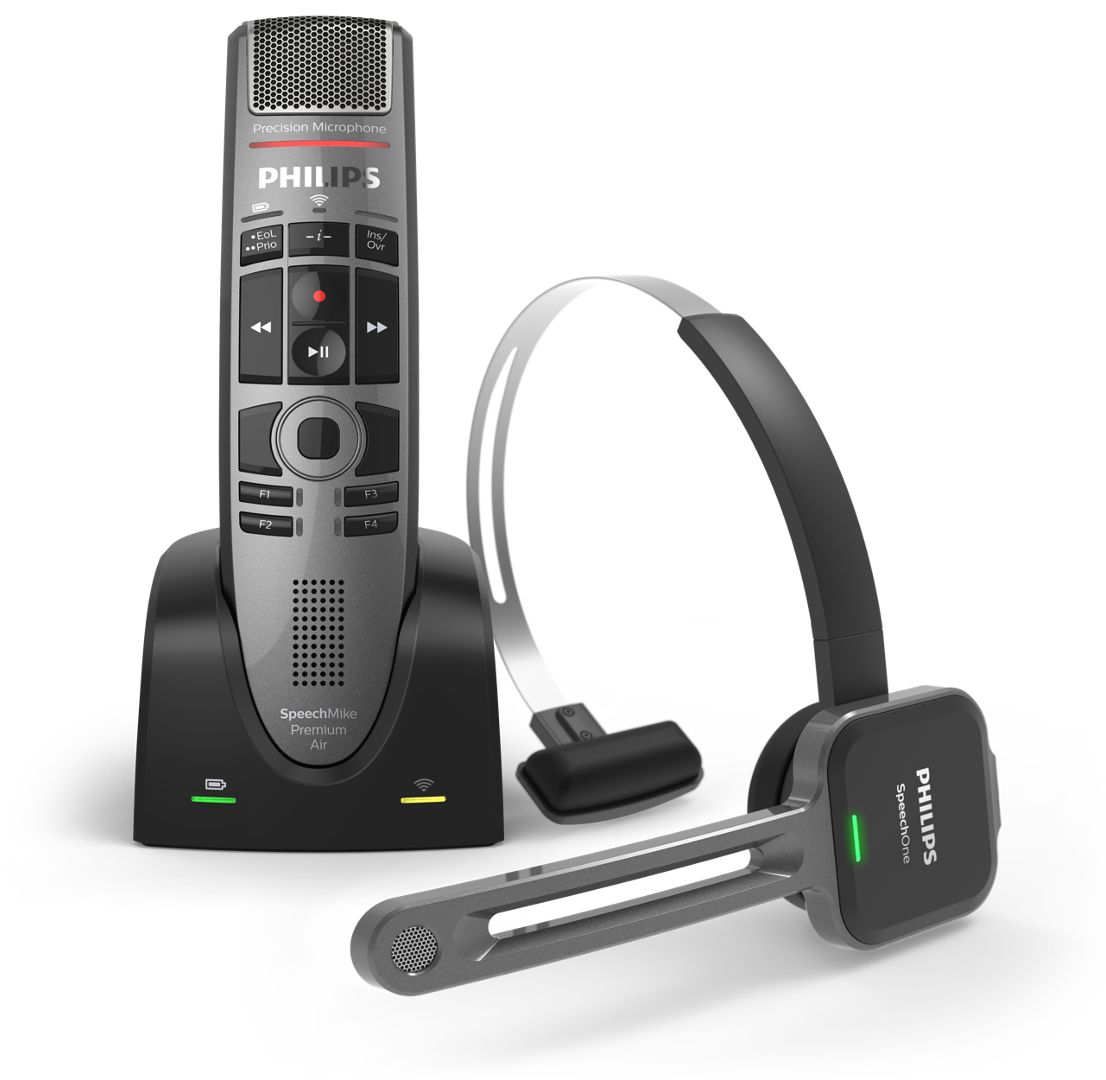 Secure your data
SpeechLive secures your audio data directly when you make aan recording, during upload time and in your own Philips SpeechLive cloud account. This means a dubble end-to-end encrytption (256×256 kbit).
Real-time encryption
Recordings are encrypted real time with the highest security standard.
Dubble encryption (256×256 kbit)
Philips uses state-of-the-art encryption standards to protect your data. The dataservers which Philips SpeechLive uses, receive the most important security certificates.
Test drive it now!

Fill out your data below an we'll get back to you.

SpeechLive.cloud
an Ateq International BV brand

Luchthavenweg 81.205
5657 EA  Eindhoven
The Netherlands
Online Workflow Management Overview